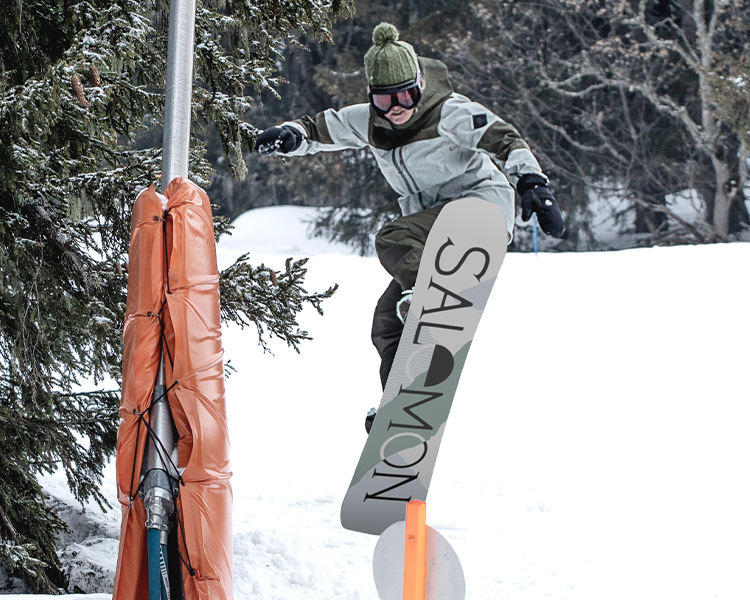 May 31, 2022
How to choose a snowboard
When it comes to choosing a snowboard, regardless of your ability level, picking the right board can be a tough decision to make. Whether you're purchasing your first snowboard or selecting a new deck to add to your quiver, making the right decision can lead to serious progression and making the wrong decision could leave you spending more time in the lodge than on the mountain. We're here to aid in making a decision that fits your riding needs best.  
When choosing a snowboard, there are a handful of significant topics to consider:
Type of snowboard

Camber profile

Shape

Length

Flex pattern

Width

Effective Edge/Sidecut Radius
 Men's snowboards | Women's snowboards
TYPE OF SNOWBOARD
One of the foremost important topics to consider when purchasing a snowboard is the type of snowboard. There are many types of snowboards for different riding styles. If you are a beginner, the general rule of thumb is to consider what your realistic ambitions are for future progression, and select your board based on those ambitions. Some of the most popular categories include:
All-Mountain Freestyle: This type of snowboard can be very accommodating to a broad range of riding styles; whether your looking to ride groomers, slash powder, or cruise the terrain park, all-mountain freestyle boards can fit just about all of your needs without over accommodating in any particular area. All-mountain freestyle boards, depending on flex pattern, can accommodate just about any skill level also.
Freeride: This type of snowboard tends to be geared more towards the 'freerider', or someone looking for stability at high speeds, deep snow, steep terrain, and generally isn't concerned with hitting park jumps or rails. Freeride boards are typically designed for riders that are intermediate to expert level. However, there are some freeride boards suited to lesser skilled riders, too. 
Freestyle: Freestyle boards are inspired by the need to catch air, slide on rails, and generally be more playful. A softer freestyle board could be better suited for rails and a stiffer freestyle board could be better suited for jumps. Regardless, freestyle boards are designed for riders looking to get creative with their snowboarding and occasionally cruise the terrain park.
Men's snowboards | Women's snowboards
CAMBER PROFILE
One of the most critical factors to consider when buying a snowboard is the camber profile. The camber profile refers to the shape of the snowboard underneath your feet, between the 'contact points'. At the most basic level there are two types of camber profiles—1.) traditional camber 2.) reverse camber (also known as rocker). There are also many hybrid shapes that offer benefits of both profiles. In general, the following benefits are associated with these shapes:
Camber—Power and precision, stability, pop, response, liveliness
Rocker or Reverse Camber—Forgiveness, flotation in deep snow, easy turn initiation
There has been deliberation over the years since reverse camber has emerged in snowboard construction and which shape is best for which style of riding. As a result, many brands have designed hybrid shapes that aim to offer the best of both worlds. Generally speaking, you'll see two types of hybrid profiles; camber between the feet with rocker in the nose and tail, and the other being rocker between the feet with small camber zones under each foot. Assuming the benefits that each shape can offer, it's best to determine what you'd like to do with your riding and choose a camber profile that fits your style best.
Men's snowboards | Women's snowboards
SHAPE
The shape of your snowboard can refer to many different variations. To keep it simple, we've narrowed it down to the fundamentals and broken down each category:
Directional – Directional boards have a significantly longer nose than tail and can vary in flex from tip to tail. Directional boards are designed to perform better at high speeds, in deep snow, and allow for beautiful arched carves. Generally, they aren't as capable of being ridden switch.

True Twin – A true twin snowboard has an identical length nose and tail, meaning if you 'cut' the board in half, the nose and tail would be symmetrical. True twins are great for all types of riding and tend to be favored by freestyle riders. Because the board is symmetrical, a twin can aid your ability to ride switch.

Directional Twin – A directional twin sits somewhere between the aforementioned shapes. Meaning, the board is directional, but not far from a twin. A directional twin shape could refer to a taper in the tail, a longer nose, a stiffer tail, or all of the above. Directional twins can offer benefits of both shapes, without over accommodating in any area.
LENGTH
Another important topic to consider when purchasing a board is the length, which is measured in centimeters. Generally speaking, a longer board will be more stable at high speeds and provide buoyancy in deep snow, however with added length you compromise maneuverability. Alternatively, a shorter board will offer a more forgiving a playful ride, with less swing weight for spinning and turning. Historically, freeride boards tend to be longer and freestyle boards tend to be shorter. However, there is no absolute standard for this. There are many freeride boards that are intended to be ridden shorter and freestyle boards that are designed to size up.
Before determining whether you want a 'true to size' board, a shorter board, or a longer board, you'll need to establish which length is appropriate for you based on your height and weight. Some people will tell you that your board should be somewhere between your Adam's apple and your nose; in reality, finding the appropriate board length is more complex than that because we're all shaped differently, just like snowboards. Luckily, most manufacturers provide detailed specs with a recommended weight range for each board size. A stiffer flexing board can usually accommodate more weight than a softer flexing board of the same size. We suggest that you follow the manufacturers suggested guidelines. If you're lesser skilled and looking for something playful, position yourself on the high end of the range. If you're more skilled and looking for something stable, aim for the low end of the range.
Men's snowboards | Women's snowboards
FLEX PATTERN
Like camber profile, flex pattern is another critical element to consider when looking at all the options available. Flex pattern can also have a large impact on your ability to maneuver a snowboard. Many boards have a dynamic flex—meaning different areas of the board offer a different level of flex. For example, many freeride boards will have a stiffer tail and a softer nose. The stiffer tail allows for power and drive while the softer nose is more maneuverable in the deeper snow. Generally speaking, a softer flexing board will be more forgiving, and a stiffer flexing board will be more responsive. Furthermore, softer flexing boards tend to be preferred for jibbing boxes and rails where as a stiffer board is preferred for stability at high speeds. Taking all of that into consideration can be overwhelming, so generally speaking if you're a beginner, a softer flexing (more forgiving) board is better suited to help you progress. If you're looking to go fast and carve hard, you may prefer a stiffer board. A medium flexing board is great for someone seeking all mountain performance whether in the park or on steeper, faster terrain.
Men's snowboards | Women's snowboards
WAIST WIDTH
At the most basic level, waist width refers to the width of the snowboard between your feet, at the narrowest point. Most boards have a standard width, which works great for people with an average size foot. However, if you have a larger foot a standard waist width may be too narrow. This results in 'heel drag' or 'toe drag', which can slow you down and interfere with your ability to ride. If you have a larger size boot, you may want to get a WIDE board. Wide boards are designed to accommodate a larger boot size and reduce the likelihood of toe and heel drag.
Inversely, if you have a smaller foot, it's possible to have a board that's too wide, resulting in a ride that is slower edge to edge. Ideally, you'll want your boots to hang just over the edge of your snowboard by 1-2 cm, this will give you leverage over the edges without lending to heel or toe drag.
A deeper dive into waist width involves rider preferences. A narrower waist width will allow for quicker edge to edge control. For this reason, some people prefer a narrower width. Alternatively, some boards are intentionally designed to be wider throughout, with a shorter overall length; this volume shift can result in reduced swing weight without sacrificing stability.
Men's snowboards | Women's snowboards
EFFECTIVE EDGE & SIDECUT RADIUS
The effective edge refers to the length of the snowboard between the contact points—the portion of a board that grips the snow when a turn is initiated. A shorter effective edge will be more playful and easier to turn. A longer effective edge will provide more stability and better edge control.
Sidecut radius is measured in meters and will give you an indication of how a snowboard will turn. A larger sidecut radius lends to longer arched turns and a shorter sidecut attributes to tighter quicker turns.
Men's snowboards | Women's snowboards
Due to the dynamic nature of snowboards, we've only covered the most critical topics in this discussion. Believe it or not, each topic covered here can be elaborated even further. However, we hope that the information provided here proves useful in your next snowboard purchase, and that your next purchase is the right one for you. Happy shredding!
Men's snowboards | Women's snowboards