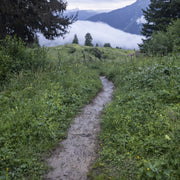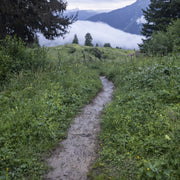 FOR THE LOVE OF THE OUTDOORS.
In recognition of Valentine's Day, we have decided to ask our athletes to tell us more about the local trails they love and why it's so special to them.
Courtney Atkinson
Mt Bartle Frere, North Queensland.
It is the highest peak in the state at just over 1600m but unique compared to the southern mountains as it is near the ocean and starts close to sea level and climbs a mile high in about 7km. True rainforest to reef views on a clear day.  The trail is challenging rainforest, with steep inclines and rocky terrain, making it a great challenge for experienced runners or an adventurous hike for others. There's a good healthy unofficial comp for the fkt between locals and the tourists. It is a must-do for any trail runner visiting the area, but please make sure to take all the right safety gear with you as it ends up remote and most of the trail is under the canopy. Plus the weather can be humid and hot at the bottom but expect rain, winds and cool temps at the summit. 
SIMONE BRICK
Kunanyi in Hobart
'An Aussie trail I love is running from the bottom to top of Kunanyi in Hobart, ending with Organ Pipes Track and Zig Zag Track. The views are incredible, you can get a bit of every type of terrain as you climb, and once at the top there are so many other trails to explore.'
Pat "Ultra Chef"
The two bays trail (Arthur's Seat) Vic.
It's running distance from my house.
It offers great varied terrain - steep, single, bush tracks.
It has been a place where I have met some of my closest mates.
It finishes at both ends with a beach you can swim in.
TOM BATROUNEY
Manly Dam, Northern Beaches nsw.
My 10km loop I do around it often is one of the loves of my running life! It's minutes from my door, challenging, beautiful and some of the most variation in terrain around. I love the huge, native trees that tower over me and the wildlife from water monitors, goannas, kangaroos and the resident 8ft python who always says hello. I've had some of my toughest running moments on that 10km loop and also some of the most effortless where I felt like I was floating and so in tune with my body, the surroundings and my gear.
Happy V-Day Manly Dam love Tom.
Matt Cooper
Cross Cut Saw trail, Mount Buller National Park 
A spectacular rocky ridge that bridges Mt Speculation with Mount Howitt. Technical, exposed, steep but with the best vistas in all of the Australian alps. From Bogong to Buffalo, Buller and beyond. Although there are many trail options in the area my go to would be an out and back from Mount Speculation to Vallejo Ganter hut. It's worth the effort to get out there!
Coops
SHOP NEW SEASON TRAIL
View all our latest trail Shoes, Packs and Accessories for the 2023 season.