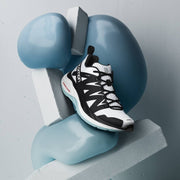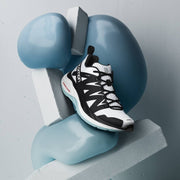 GLIDE MAX
GLIDE MAX
PREMIUM, SMOOTH DAMPENING AND LIGHTWEIGHT PERFORMANCE FOR ROAD RUNNERS.
GLIDE MAX
A featherlight ultra-cushioned road runner, GLIDE MAX is built on the Ultra Ride plateform which combines an elevated stack height and Energy Surge foam midsole for plush strides, while the R Camber technology takes care of rapid-fire transitions. A comfortable performance shoe designed with an engineered mesh for breathability and heat management.
$299.99
PREMIUM CUSHIONING
The higher stack height combined with Energy Surge, our super cushy midsole compound, brings pop and smooth dampening for your stride.
lightweight
Featherweight high-level performance weighing in at just 275g, thanks to Energy Surge technology.
fast transition
Our signature R.Camber rocker geometry combined with an 10mm drop ensures a quicker transition – so you spend less time on the ground, and more time moving forward.
road running
Stride after stride, Salomon brings you the best in road running footwear, clothing, and gear so you can push your personal limits and enjoy every mile.