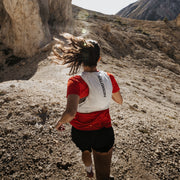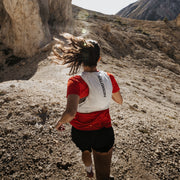 HYDRATED
From a walk in the forest to a long day in the mountains, improve your performance with our range of Salomon hydration bags.
ACTIVE SKIN - ENTRY LEVEL
Inspired by top trail runners, this hydration vest is great for starting out and gives you the confidence to take on shorter trails. Prioritizing comfort, the ACTIVE SKIN is soft, snug and breathable. Let's not forget the modular storage spaces and strategic chest pockets for easy access to your flasks.
ADV SKIN - INTERMEDIATE
Endurance races are demanding. So are endurance runners. That's why the updated ADV SKIN is designed to make you feel freer and comfier. It still covers essentials like easy hydration, while also offering a snug, stable women-specific fit – not to mention ultra-versatile storage. This 5-liter version is ideal for those shorter outings.
SENSE PRO - RACER
Shaving seconds off your time is crucial in an ultra, as is precision and well-being. Our minimalistic SENSE PRO has been designed for a seamless, friction-free fit and streamlined performance, no matter how long or tough the distance. With on-the-go access to your trail essentials, it's also breathable, lightweight and ultra reliable.
BELTS & HANDHELDS
Ultra-functional and minimial belts and handhelds for your running essentials.
FLASKS & ACCESSORIES
Find hydration solution for your needs.